Here, we reveal a possible image of a prototype NextGen Nerf Super Soaker. Based on the popularity of the 2018 Nerf Super Soaker Splashmouth water gun model, Hasbro may be developing a new series under the "CPS" moniker.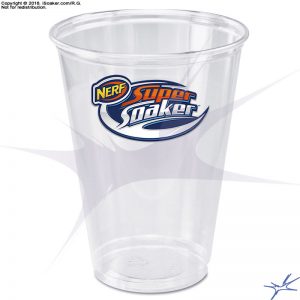 Behold!
Possible names include: the Nerf Super Soaker CPS Cup, Nerf Super Soaker Splashmouth 2.0, and Nerf Super Soaker CPS 16oz.
Guaranteed to meet and exceed all your soaking needs, the new Nerf Super Soaker CPS series will leave none dry. CPS is the technical acronym for how many "Cups-Per-Second" one can release (this particular model achieves a CPS rating of…  "1"). Open top means fast, easy refilling, and unparalleled soaking performance, drenching EVERYONE, even the user! Holds up to 16oz and can unleash it all in LESS THAN A SECOND! Easily measure how many CPSes it takes to drench your opponents; no pumping required! (Bonus feature: made from 100% recyclable plastic)
Estimate retail price: Estimated at just a mere $5.99 for this quality product.
Granted, this is only a prototype image. Whether this model actually ends up in production as is shown above remains to be seen.
Update note: fixed some minor errors and added in estimated pricing information
End Note: This article is pure satire and fiction (at least as far as we know), but given the direction Hasbro Inc. has taken the Nerf Super Soaker brand for 2018, the eventual reality may prove to be stranger than this fiction.